19th Century Art Movements, Styles & Examples
The 19th century was a period of great artistic innovation and creativity, marked by various art movements that greatly influenced the art world. 19th Century Art Movements encompass a diverse range of styles and techniques that emerged
during this time period, reflecting the social, political, and cultural changes of the era. Let's dive into the fascinating world of 19th-century art and explore some of the prominent movements, styles, and examples that shaped the artistic landscape.
The first movement to explore is Romanticism. Romanticism emphasized intense emotions, imagination, and the sublime in art. It was a reaction against the rationality of the Enlightenment and embraced individualism and spiritual elements.
Characteristics of Romanticism include an emphasis on nature, fascination with the supernatural, and a focus on the individual's subjective experience. Notable examples of Romanticism art include Caspar David Friedrich's ""Wanderer above the Sea of Fog"" and Eugene Delacroix's ""Liberty Leading the People.""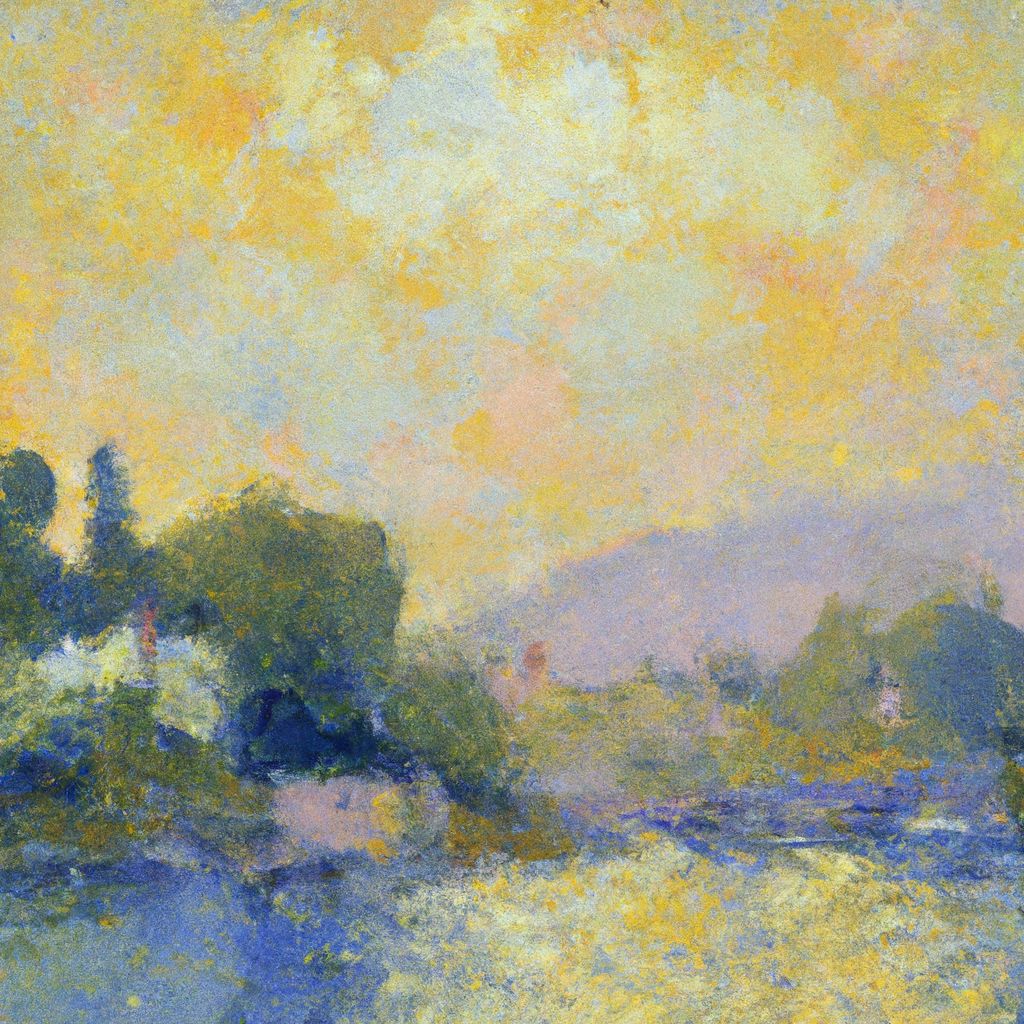 Another significant movement of the 19th century is Realism. Realism aimed to depict everyday life and the struggles of ordinary people, often highlighting social and political issues. It rejected the idealized and romanticized representations of the past and sought to present a truthful and objective view of reality.
Noteworthy examples of Realism art include Gustave Courbet's ""The Stone Breakers"" and Jean-François Millet's ""The Gleaners.""
Impressionism is yet another influential movement of the 19th century. Impressionist artists sought to capture the fleeting effects of light and color in their works, using loose brushstrokes and experimenting with new techniques.
The movement was characterized by an emphasis on capturing immediate impressions rather than intricate details. Famous examples of Impressionism art include Claude Monet's ""Water Lilies"" and Edgar Degas' ""Dancers at the Barre.""
Moving on, we encounter Post-Impressionism, which developed as a response to the limitations of Impressionism. Post-Impressionists explored new avenues of expression, focusing on subjective interpretations of reality and experimenting with form, color, and perspective.
Key characteristics of Post-Impressionism include the use of bold colors, distinctive brushwork, and the incorporation of symbolic elements. Notable examples of Post-Impressionism art include Vincent van Gogh's ""Starry Night"" and Paul Cézanne's ""Mont Sainte-Victoire.""
Lastly, we explore Symbolism. Symbolism sought to evoke emotions and ideas by using symbols and metaphors, departing from the direct representation of the external world. Symbolist artworks often conveyed dreamlike and mysterious qualities, with a focus on the spiritual and subconscious realms. A renowned example of Symbolism art is Gustav Klimt's ""The Kiss.""
By understanding these 19th-century art movements, their distinctive characteristics, and exploring notable examples, we can gain a deeper appreciation for the rich and dynamic art scene of this era.
Key takeaway:
19th-century art movements revolutionized artistic expression: From Romanticism to Symbolism, artists during this period experimented with new styles and techniques, pushing the boundaries of art.
Romanticism captivated with emotion and nature: Characterized by intense passion, Romanticism artists sought to evoke strong emotions through their works. Examples include Caspar David Friedrich's landscapes and Eugene Delacroix's historical paintings.
Realism brought authenticity and social commentary: Realist artists focused on portraying everyday life and social issues with accuracy and sincerity. Gustave Courbet's ""The Stone Breakers"" and Honore Daumier's caricatures are notable examples.
Impressionism captured fleeting moments and light: Artists like Claude Monet and Pierre-Auguste Renoir used loose brushstrokes and vibrant colors to depict the effects of light and atmosphere, as seen in ""Impression, Sunrise.""
Post-Impressionism expanded on Impressionism's innovations: Artists like Vincent van Gogh and Paul Cézanne took Impressionism further, exploring new forms and emphasizing subjective expression, as seen in ""Starry Night"" and ""Mont Sainte-Victoire.""
Symbolism delved into the mystical and dream-like: Symbolist artists sought to evoke deeper meanings and emotions through symbols and metaphors. Gustave Moreau's ""The Apparition"" and Edvard Munch's ""The Scream"" exemplify Symbolism's enigmatic nature.
Romanticism
Photo Credits: Homepointmedia.Com by Sean Hall
In the realm of 19th-century art movements, one stands out with its emotive and passionate nature - Romanticism. Get ready to be swept away by the vibrant expressions and rich symbolism that define this artistic era.
We'll uncover the distinct characteristics of Romanticism, immersing ourselves in an exploration of raw emotions and a yearning for nature's beauty. And prepare to be captivated by compelling examples of Romanticism art that transport us to a world of imagination and unbridled passion. Let's embark on this enchanting journey into the heart of Romanticism!
Characteristics of Romanticism
When appreciating Romanticism art, it is important to understand the characteristics of Romanticism. Romanticism emphasized expressing emotions and celebrating individuality. The artists sought to evoke strong emotions in their audience.
They were inspired by the beauty and power of nature, depicting dramatic landscapes that captured the awe-inspiring and transcendental aspects of the natural world. The power of imagination and fantasy was also embraced in Romanticism. Artists explored dreamlike and fantastical themes, blurring the boundaries between reality and fantasy.
In addition, Romanticism looked to the past for inspiration, particularly the medieval and Renaissance periods. Artists drew on historical events, legends, and myths to create nostalgic and idealized representations. This celebration of the past added depth to Romanticism art.
Romantic artists also rejected the strict rationality of the Enlightenment era. They valued intuition, emotion, and irrationality instead. By breaking free from the constraints of reason, they embraced spontaneity and intuition in their creative process.
So, when appreciating Romanticism art, one should look for works that evoke strong emotions and capture the beauty and sublime of the natural world. The use of imagination and fantasy adds mystery and wonder to the artwork. Exploring the historical and mythological references that appear in Romanticism art provides insights into the artist's nostalgic and idealized vision of the past.
Examples of Romanticism Art
Wanderer Above the Sea of Fog by Caspar David Friedrich: Examples of Romanticism Art include this painting, which showcases the Romantic fascination with the sublime and man's relationship with nature.
The Hay Wain by John Constable: Another example of Romanticism Art, this painting captures the beauty of the English countryside and reflects the Romantic idealization of rural life.
The Third of May 1808 by Francisco Goya: This artwork, belonging to the realm of Romanticism Art, depicts the execution of Spanish rebels by French soldiers during the Peninsular War. It reflects the Romantic emphasis on individual heroism and resistance against oppression.
Liberty Leading the People by Eugène Delacroix: This painting, considered a masterpiece of Romanticism Art, symbolizes the spirit of the French Revolution and represents the Romantic ideals of liberty, passion, and national pride.
The Raft of the Medusa by Théodore Géricault: Another notable example of Romanticism Art, this painting depicts the aftermath of a shipwreck, highlighting the themes of suffering, survival, and the triumph of the human spirit.
If you want to explore more examples of Romanticism Art, you can also look into works by William Turner, J.M.W. Turner, and Lord Byron's poetry. These artworks embody the emotional intensity, individualism, and appreciation for nature that characterize the Romantic movement.
Realism
Photo Credits: Homepointmedia.Com by Eugene Williams
Realism, the captivating art movement that mirrors reality in all its detailed glory. In this fascinating section, we'll dive into the characteristics of realism and discover some stunning examples of this artistic style.
Get ready to be immersed in the intricate details, the raw emotions, and the tangible world brought to life on canvas. Prepare to witness the power of realism as it captures the essence of everyday life and reveals the hidden truths that lie within.
Characteristics of Realism
Objective representation: Realism depicts subjects in an objective and truthful manner. Artists capture everyday life of the working class, showing scenes of urbanization, industrialization, and poverty.
Attention to detail: Realist artists pay meticulous attention to detail, presenting subjects with precision and accuracy. They aim to create artworks resembling photographs in their level of detail and specificity.
Use of light and color: Realism employs a naturalistic approach to lighting and color, reflecting reality. Artists use subtle variations of color and light to create depth and realism.
Social commentary: Realist artists critique social injustices and advocate for social reform through their works.
Emphasis on ordinary subjects: Realist artists focus on representing the lives and experiences of ordinary people, including laborers, peasants, and urban dwellers.
In art, realism emerged in the 19th century as a response to romanticism. It aims to portray the realities of society and provide a truthful representation of life.
Examples of Realism Art
- Gustave Courbet - ""The Stone Breakers"" (1849)
- Honoré Daumier - ""Third-Class Carriage"" (1862-1864)
- Jean-François Millet - ""The Gleaners"" (1857)
- Ilya Repin - ""Barge Haulers on the Volga"" (1870-1873)
- Winslow Homer - ""Snap the Whip"" (1872)
- Thomas Eakins - ""The Gross Clinic"" (1875)
- Jean-Baptiste-Camille Corot - ""Lady in Blue"" (c. 1868)
Fact about Realism Art:
Realism in art emerged as a response to the romantic ideals of the 19th century. Realist artists depicted everyday life, often focusing on the working class and their harsh conditions.
These artists aimed to bring attention to social issues and inequalities by accurately representing them. Examples of Realism Art showcase the skill of these artists in capturing the essence of ordinary life with precision and authenticity.
Impressionism
Photo Credits: Homepointmedia.Com by Gabriel Harris
Explore the captivating world of Impressionism, where brushstrokes come alive and colors dance on the canvas. Uncover the distinct characteristics that define this remarkable art movement and discover the breathtaking examples it has given birth to.
From capturing fleeting moments to venturing into unconventional techniques, Impressionism is an artistic journey filled with awe-inspiring beauty and revolutionary vision. Step into a realm where art is a celebration of light, atmosphere, and the ever-changing essence of our world.
Characteristics of Impressionism
The Impressionism movement is defined by several key characteristics. First and foremost is the use of light and color. Impressionist painters skillfully capture the effects of natural light and color in their artwork.
They employ bold and vibrant colors, applying them in small brushstrokes to create an overall atmosphere.
Secondly, Impressionists focus on everyday subjects. This includes depicting scenes from everyday life such as landscapes, cityscapes, and leisure activities. The aim is to capture the transient aspects of these scenes, emphasizing the passing of time.
Another characteristic is the loose and spontaneous brushwork that Impressionist artists employ. They intentionally reject precise and detailed brushwork, instead opting for loose and spontaneous brushstrokes. This conveys movement and energy in their paintings.
Impressionists are also skilled at capturing the play of light and shadow. They expertly portray the changes in light and its impact on colors and shapes in their compositions.
Lastly, Impressionists aim to capture the sensory experience associated with their subjects. They go beyond simply depicting the physical appearance and strive to evoke sensations and emotions in the viewer. This is achieved through their use of color, light, and brushwork.
If you have an interest in exploring Impressionism further, consider visiting museums with notable Impressionist collections, reading biographies of famous Impressionist artists such as Claude Monet or Edgar Degas, or trying your hand at creating your own Impressionist-inspired artwork. Immerse yourself in the world of Impressionism to gain a deeper appreciation for its unique characteristics and artistic contributions.
Examples of Impressionism Art
Impressionism art refers to a movement in the art world that was initiated by ""Impression, Sunrise"" by Claude Monet.
This masterpiece showcases a hazy sunrise over Le Havre harbor, capturing the ephemeral nature of light and atmosphere.
Another notable work by Monet is his ""Water Lilies"" series, which demonstrates his adeptness at capturing the play of light and reflections on the water's surface.
Georges Seurat's ""A Sunday on La Grande Jatte"" is a true masterpiece, portraying people leisurely relaxing on an island in the Seine River.
Seurat achieved this effect by using tiny dots of color that seamlessly blend together when viewed from a distance.
Edgar Degas' ""Dancers in Pink"" showcases his talent for delicately rendering ballet dancers, capturing their graceful movement through his brushstrokes.
Vincent van Gogh's iconic ""Starry Night"" is renowned for its dynamic brushstrokes and vibrant colors. This painting depicts a night sky filled with stars and a village below.
These impressive examples of Impressionism art highlight the artists' focus on capturing fleeting moments, the effects of light and color, as well as the use of loose brushwork to convey atmosphere and emotion.
Each painting tells a unique visual story and showcases the innovative techniques that defined the Impressionist movement.
Post-Impressionism
Discover the captivating world of Post-Impressionism! Unleashing boundless creativity, this artistic movement broke free from traditional norms.
Immerse yourself in the sub-sections to unearth the mesmerizing characteristics of Post-Impressionism and explore stunning examples of its art. From vibrant brushstrokes to bold color choices, delve into the realm of artistic expression and be captivated by the innovative spirit that defined this influential period in art history.
Characteristics of Post-Impressionism
- Post-Impressionist artists delved into the use of vibrant colors, surpassing what is seen in reality, to create a bold and expressive visual experience.
- They simplified and abstracted forms, putting emphasis on geometric shapes in order to establish a unique visual language.
- Rather than merely replicating the world around them, these artists aimed to convey their own personal feelings and subjective experiences through their works.
- Many of these artists employed the impasto technique, utilizing thick and textured brushstrokes to add depth and dimension to their paintings.
- The exploration of light and its effects was also a focal point for Post-Impressionist artists, who experimented with capturing various lighting conditions by using contrasting colors and brushwork.
Examples of Post-Impressionism Art
""Starry Night"" by Van Gogh is a well-known example of post-impressionism art. The brushstrokes and colors convey movement and emotion.
""Mont Sainte-Victoire"" by Paul Cézanne showcases his unique approach to post-impressionism. The use of geometric forms and multiple perspectives creates depth and complexity.
""The Sleeping Gypsy"" by Henri Rousseau is a dreamlike depiction of a lion standing over a sleeping woman in the desert. This work exemplifies the fantastical and imaginative elements often found in post-impressionism art.
""A Sunday on La Grande Jatte"" by Georges Seurat employs pointillism, using small dots of color to create the image. This technique adds vibrancy and luminosity to the painting.
""Where Do We Come From? What Are We? Where Are We Going?"" by Paul Gauguin is a large-scale composition that explores existential questions. It features bright, non-naturalistic colors and symbolic figures.
Symbolism
Step into the intriguing world of Symbolism, where art becomes a conduit for deep emotions and hidden meanings. Unveiling the distinct characteristics of Symbolism and showcasing captivating examples of Symbolism art, this section invites you to embark on a journey that delves into the mystical, the ethereal, and the enigmatic.
Brace yourself for a visual exploration that transcends the boundaries of reality, as artists of the 19th century sought to portray the unseen and evoke powerful emotions through their brushstrokes and compositions.
Characteristics of Symbolism
Symbolism is characterized by subjectivity, spirituality, and the use of symbolic language. It explores mystical and religious themes, conveying spiritual and transcendent experiences. Symbolist art often features dreamlike imagery, blurring the line between reality and the subconscious.
The emphasis is on the inner world, with a focus on the artist's thoughts, feelings, and imagination. Symbolists reject scientific rationalism, favoring intuition, emotion, and the supernatural. They strive to transcend the ordinary, exploring deeper truths and realities.
Emotional resonance is a key goal of symbolist art, aiming to evoke strong emotional responses and stimulate the viewer's imagination. Symbolists also incorporate elements from literature, music, and theater into their work, creating a combination of different art forms. The movement arose as a reaction against the dehumanizing effects of industrialization, longing for a return to nature and the spiritual.
Examples of Symbolism Art
One day, while visiting a museum, I stumbled upon a small exhibition dedicated to Symbolism art.
As I walked through the dimly lit rooms, I couldn't help but be entranced by the mysterious and symbolic nature of the artworks.
Among them, Gustav Klimt's ""The Kiss"" stood out to me.
The intricate gold patterns and the passionate embrace of the lovers resonated with me on a profound level, evoking feelings of love, desire, and spirituality.
It was a transformative experience, as if the painting had transported me to a world filled with hidden meanings and complex emotions.
Since then, my admiration for Symbolism art has only grown, as I appreciate its ability to convey profound ideas through visual symbolism.
Some Facts About 19th Century Art Movements, Styles & Examples:
✅ Neoclassicism was the dominant art style at the beginning of the 19th century.
✅ Romanticism emerged as a reaction against the idealized forms of Neoclassicism and focused on emotion and nature.
✅ Realism, considered the first modernist art movement, sought to depict the world as it was, rejecting idealized forms and themes.
✅ Impressionism revolutionized the art world with its focus on capturing fleeting moments and variations in light and color.
✅ Post-Impressionism followed Impressionism and introduced abstract forms and patterns to depict the artist's individual vision.
Frequently Asked Questions
What were some of the prominent art movements and styles in the 19th century?
In the 19th century, there were several significant art movements and styles that emerged. These included Neoclassicism, Romanticism, Realism, Impressionism, Post-Impressionism, Art Nouveau, and Symbolism.
How did the Industrial Revolution contribute to the changes in 19th-century art?
The Industrial Revolution had a profound impact on 19th-century art. It brought about rapid social changes and urbanization, which resulted in a state of flux. Advancements in communication and transportation allowed for the spread of new artistic influences and ideas.
What were some of the artistic freedoms that artists enjoyed in the 19th century?
In the 19th century, artists had more freedom to explore their own interests and creativity. They were able to break away from traditional art forms and challenge the established norms. This led to the birth of avant-garde and innovative approaches to art.
Can you provide some examples of abstract art movements in the 19th century?
Two prominent abstract art movements in the 19th century were Color Field Painting and Abstract Expressionism. Color Field Painting emphasized contemplative color and open compositions, while Abstract Expressionism used dynamic brushstrokes and the effects of dripping and spilling paint.
How did the rise of industrialization impact art movements in the 19th century?
The rise of industrialization brought about profound changes in society, and this was reflected in art movements. Artists started to reject idealized forms and exotic themes in favor of depicting everyday life and ordinary people. This marked the emergence of Realism, considered the first modernist art movement.
What were some of the major shifts in Western art styles during the 19th century?
The 19th century witnessed a rapid evolution of Western art styles. It started with the dominance of Neoclassicism and then gave way to Romanticism, Realism, Impressionism, and Post-Impressionism. These shifts reflected the changing societal attitudes and paved the way for the art movements of the 20th century.